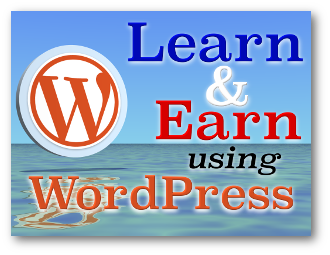 Having a website is essential for anyone serious about building an online business. Using WordPress to build a website is one of the easiest ways I've found to do this. WordPress is very easy to set up yet very customizable down to every detail. Something for both beginners and seasoned pros.
A Versatile Content Management System
---
A Content Management System (CMS) is a user interface that lets you manage your website without having to write code or get into the deep technical aspects of it. That is, you type out your post in a built-in visual editor, choose the styles and fonts, add pictures, etc – just like a word processor. When you preview or publish your work, WordPress converts it into HTML code and adds the new page or post to your website.
Lightweight But Powerful
---
The beauty of WordPress is that it is small and fast. It does not require much space or resources on your server. It is powerful in that it is highly customizable with themes and extendable with plug-ins. You can even edit the PHP source code modules from an edit option on the dashboard. Handy if you want to do any special customization to the headers and/or footers. For example, add a Google Analytics tracking script to the header.
Open Source
---
WordPress is open source and distributed under the GPL license. No special license agreements or fees. You simply download the code and install it to your site!
Engage Your Audience Through Comments
---
When you're building a business, nothing is more important than engaging your visitors. WordPress provides a built in comment management system that lets your visitors leave comments or ask questions.
A website that is active with user engagement may also rank better in search engine results, too. User engagement indicates your website is alive and up to date. Not collecting dust, outdated, full of broken links, and "last updated in 1996".
Whenever you write a post, you get the ability to have users leave comments. This can optionally be enabled for pages, too.
Invite your audience to leave comments and participate on your blog! The buzz of activity looks good when your site is indexed and ranked by search engines. It helps establish credibility and trust.
Themes!
---
There are thousands of themes available for you to customize the appearance of your WordPress blog with. Many are free and others are sold on a subscription or one-time payment basis.
While there are many great free themes available, the paid "pro" themes are often much better designed by very experienced developers. Free or paid, be sure to download your theme from a reputable source! There are poorly designed or out of date themes out there that can expose security risks. Worse yet, they can contain malicious code! Be careful!
Ideally, look for themes that are designed to load fast, that are "Responsive", that is they adapt to any size of display they are viewed on, whether it is a small smartphone or a full sized desktop computer.
Best place to browse for themes is from your WordPress Dashboard or at WordPress.org.
Widgets!
---
Widgets are those little goodies you see in a sidebar the right side of most blogs. They are mostly used to add a search box feature, navigation menus, ads, affiliate banners, etc. Most WP themes come with a variety of standard commonly used widgets, and various options for where they are displayed. They can also contain anything you want by putting your own HTML into a "Text" widget.
100% Yours!
---
Since WordPress in open source and non proprietary, your copy of WordPress, and the content you create on it are 100% yours. Nobody has "dibs" on it or collects royalties or license fees. It's yours to do whatever you like!
Self-Hosted
---
Basically all you need is the core WordPress PHP code and a place to host it. This can be your own server or one of the many services that offer shared (or dedicated) servers optimized for WordPress. It usually easier to go with a hosting service that offers WordPress hosting as they can manage all of the server-side details (there are many!) of setting up maintaining your WordPress site.
Support!
---
There are lots of active communities where one can get support getting started in WordPress. How about a training platform that will show you step-by-step how to create a WordPress website and turn it into an online business!
Ready?
Click Here to Start Your Training Now – for FREE!
---
Well, I can barely scratch the surface on this subject in just this one post. If you'd like to take the "deep dive" into learning how to use your WordPress blog to earn money, come join our active community at Wealthy Affiliate!
What do you like to blog about? Questions? Comments? Feel free to leave 'em below.
When you join, I'll be here to help you every step of the way.