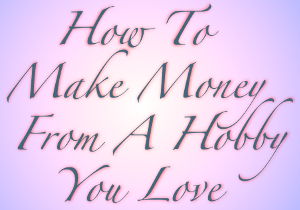 "I wish I could earn money doing my hobby full time" or "Yeah, my hobby is fun but there's no money in it" … Do you feel this way?
Let's take a look at how to make money from a hobby you love doing. This can be any hobby! You've probably looked at lists of "money making hobbies" and became disappointed that your hobby is not on there. You probably gave up and resigned yourself to the usual slog through the work day. Or maybe you're unemployed, or retired, and looking for income?
Any Hobby Can Earn You Money!
---
Let's forget that "there's no money in it" nonsense. We're going to take a look at this problem from a different angle and show you how virtually any hobby, activity or whatever it is you enjoy doing, can become a money maker for you!
Chances are you are going online regularly to browse the web for information, share your latest creation to social media, read articles, blogs related to your hobby. Most likely you also shop online for stuff and services related to your hobby.
Somewhere along the way somebody made a profit from your activities – that is money made as a result of something you enjoy doing.
So, how do we put ourselves in that path where the money is flowing? There are a few basics we need.
Website
---
First of all, you need your very own website or blog. Something that you have complete control of. There are many options but I have found WordPress to be an ideal platform to build upon. WordPress gives you easy content management and tons of customization through themes, plugins, and your own coding.
This is where you write articles, share pictures or videos, offer tips, tricks and advice about your hobby. Ideally your website should by highly focused on your hobby – this is your niche.
A Targeted Audience
---
Of course, the next logical step is to have a stream of visitors coming to your who are interested in your hobby. These are like-minded who are looking for ideas, answers to problems, looking for a product recommendation, or anything related.
There are several ways to attract these people to your site. First and foremost is keeping your website alive and active with lots of relevant and interesting content. What other websites out there do you find yourself frequenting often? Are they being updated with fresh and new material? Was it good enough that you joined their mailing list to get the latest updates?
Definitely some things to consider when building out your hobby/business website. Put yourself in the shoes of your audience.
So having tons of great content is vital. Now we need to let the world know you're out there! This is usually the toughest task of getting a new website off the ground. It is often the reason so many novice internet marketers or bloggers give up. Their sites end up becoming abandoned ghost towns littered along the internet super highway.
Patience and creativity in promoting your website are crucial. At the same time you want become a spammer!
Related Products or Services
---
Okay you have a website chock full of great stuff about your hobby, and a growing audience. Now we get to that money part.
For most of us, the first thing we think of is making products and selling them, for example on Etsy. Sure that is one way, but there are more ways. One of my favorite ways is through affiliate marketing.
 Affiliate Marketing – The easy way to do it!
---
Affiliate Marketing is an arrangement where a merchant who sells goods or services pays a commission percentage to anyone who sends a prospective customer their way and they make a purchase. Direct advertising is expensive, and affiliate marketing offer a way to attract customers from the traffic visiting other peoples websites.
Now we take a look at all of the goods and services that are related to your hobby and see if they offer an affiliate program you can join. Check out my post: "What Is Affiliate Marketing And Does It Work?" for a deep dive into how it works.
Coming back to your hobby website, product/service review pages are a great place to offer affiliate links to stuff people need and can buy. In other articles where you recommend a product or service, you provide a link to the page where you wrote up your review or experience with the product.
This is just scratching the surface on how you can monetize your favorite hobby by sharing it on the web. There is much more to this than I can put into one blog post. Let's look at where to go from here and learn step by step how to put this into action!
Doing It Right
---
Creating a WordPress site is super simple with all of the managed WordPress Hosting options available now. However, building that website into a beautiful money making blog takes effort, commitment, the right training and tools.
Sure, you can just "Google it", but this is not going to help you. There's tons of information out there, but sorting out what's right for you and avoiding the scams is a real pain! You need up to date training and support.
After years of trying to figure out the internet marketing puzzle for myself with little success, I had the good fortune of finding a training resource called Wealthy Affiliate.
Here I was able to connect with many interesting people of all ages and from all walks of life, train together, and do this thing right! Come on over and read more on how Wealthy Affiliate can provide you with the resources, and the step by step training you need, to turn that hobby you already love doing into a thriving business.
Click Here to Learn More!
I hope this article can help others learn how they can turn any hobby into a source of income. Never again will you have to say "It's fun, but there's no money in it.". There's money in any hobby if you're creative!
What kinds of hobbies do you enjoy? Your comments and questions are welcome below.