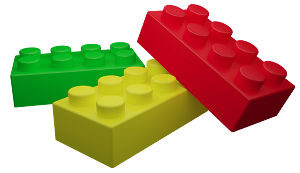 A website is the foundation of your online business. Without a website, you are literally homeless on the information superhighway! This page will show you how to easily build a website in a matter of minutes.
Easier than ever
---
Today, building a website is easier than ever with an ever growing number of services offering everything from domain registration to hosting, statistics and everything in between. You can even do it all with little or no technical knowledge or experience.
This is a far cry from what it used to be when you had manually edit your own HTML.  Then hosting it was a whole complicated affair in itself. Lots of trial and error and hoping the whole thing worked once it is live.
If you do affiliate marketing, having an active website or blog that ranks high in search engine results is a great way to earn income from commissions. In the Getting Started section, we've touched on how you can find a "niche" you are good at and capitalize on it.
The Most Important Things to Consider:
---
Ideally, you want a website that:
Loads fast
Looks professional
Contains quality content
Is easy to navigate
Looks great on mobile devices as well as on desktop screens
Uses a Content Management System such as WordPress
Follows best practices for ranking in major search engines
Is hosted by a reliable hosting service
Is easy to manage
Speed
The average time a visitor to a website will wait for it to appear is less than 5 seconds! You want a hosting service and a solid content management system that can deliver quickly. If your website is always slow, nobody is going to want to come back to it.
Professional Appearance
Nothing turns off visitors more than sloppy inconsistent looking pages within your site or blog. Another advantage of using a content management system like WordPress is that there are thousands of ready-made professionally designed and optimized themes available. For this blog, I am using the Iconic-One theme by Themonic. This is a crisp, simple theme that is fast and looks great on mobile devices as well as on desktop displays.
Content
You've probably heard it before – Content is King! Content is the meat your visitors are looking for. Relevant content is what gets your site ranked in the search engines, and what makes visitors want to share your website with others. When I write content, I like to "shoot from the hip" and be myself with all of my own flaws. Keep it human!
Ease Of Navigation
Lots of quality content is great, but it has to be easy to navigate! This is another reason I like WordPress. Most of the themes have a great structure already built-in. You just pick what and how you want it to appear and fill in the blanks.
Mobile Friendly
Nowadays, most websites are visited from smartphones which have smaller displays. So it is extremely important that your website or blog be what is called "Responsive" – that is, be able to adapt to any display size from smartphones to desktop displays, and look great. It is a good idea, to check your work periodically on a mobile device or emulator to make sure it all looks good. Today with Google's "Mobilegeddon" program in place, sites that optimize for mobile will have a chance at ranking better.
Content Management System
One can certainly write their own website or hire a developer to create one. However doing these ways is not the best way for the average person. Writing your own website is time consuming and hiring a developer is expensive. This is where a good Content Management System, such as WordPress, Weebly, and many others, can be of great advantage. These give you a "dashboard" from which you can quickly build and maintain websites using templates, where you simply choose how you want it to look and fill in the blanks. For example with WordPress, you have access to thousands of professionally crafted themes, many of which are designed by talented web developers. Many are free and others offer high end profession themes for sale. The Themonic Iconic-One theme used here is one example of a great WordPress theme.
Search Engine Friendly
Once you have a great website up and running, you want your audience to find you! Your website and the content you put in it should be easy for others to find using a search engine such as Google, Yahoo!, Bing and others. We will show you how to use Search Engine Optimization (SEO) tools to optimize your ranking in search engines.
Reliable Web Hosting
You need a space to put your website. A solid, reliable hosting service is the backbone of your website! A good hosting company will help provide essential services such as server space, backup, security, domain name registration, etc and a dashboard from which you can manage it all.
Easy To Manage
You certainly want a website that is easy to manage. If you cannot manage it easily, it will be difficult to keep it up to date and fresh with content. A great hosting service and content management system will make your website effortless to manage so that you can focus on writing great content!
WordPress – Your Content Management Powerhouse
---
It is very obvious that WordPress is a popular website platform, because it is an excellent Content Management System. Some of the many benefits include:
Thousands of themes to choose from
Thousands of "plug-ins" to extend or add functionality
Extremely easy to setup
No HTML or coding experience needed
Widespread community support
Compared to the "old days" when I hand coded my own HTML, going the WordPress route is so much easier! You can view one of my old hand-coded web sites here: www.analogcreations.com. It took a lot of work just to create the simple interface and pages within. With today's tools, what took me hours can be done in minutes!
Create a WordPress Website for Free, Now!
---
Having a website that meets the above criteria will greatly improve your visitor's experience and they will want to stick around.
If you are anxious to try it now, SiteRubix, the hosting service I use for this site, will let you create two free WordPress websites. This video demo will show you how!
Conclusion
---
I hope you've enjoyed my "two bits" on the importance of a website in building your online presence. If you have any questions, I'm here to help! Don't hesitate to comment.
Cheers and all of the Best,