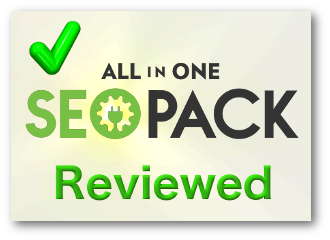 This humble WordPress plugin, from the good guys at SemperPlugins has become my buddy for getting the meta tags set up right on my WordPress site and in my posts.
Not only for setting general SEO settings and meta title and description, but also social sharing meta tags for Open Graph, and XML site maps.
What Is It?
---
All In One SEO is a lightweight WordPress plugin containing a set of mostly free tools for managing meta tags in WordPress. It is made by SemperPlugins who also offer a couple of other plugins – Subscribe2 HTML and WordPress Mail Queue (WPMQ).
It has a basic no frills interface that is quick to navigate and to the point. There are help links in every section and at most fields that will explain that feature.
AIOSEO is mostly free with a few paid upgrade options, including video sitemaps and access to extensive online training webinars.
Installation
---
Here's how to get it and how I use it!
Head on over to their website or look 'em up in your WordPress plugins.
Follow the steps to install – the usual WordPress plugin drill here.
Activation
---
Activate All In One SEO itself. Once it's ready, head on over to the Feature Manager. You'll see a grid of feature modules. Now let's activate some of the additional free goodies that come with AIOSEO. The three I'm using are shown below. On your new install, the buttons will say "Activate" instead of "Deactivate".
Social Meta
This lets you manage the social sharing meta tags. I have devoted a whole post on how to use the Social Meta module in my How To Make Your WordPress Blog Sharable post.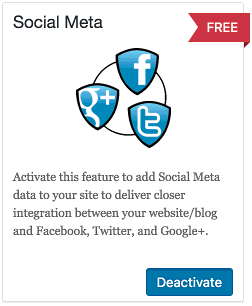 XML Sitemap
This manages your XML sitemaps and submits them to the search engines. There are settings that control how frequently the sitemap should be updated.
A sitemap is very important as it makes it easy for Google and other search engines to efficiently "spider", that is index all of your content, and get it ranked. I just leave the defaults as they are, so nothing needs to be setup here. Just activate it and you're set! Your sitemap will be updated as you create or update content.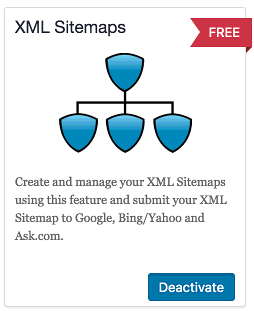 Importer & Exporter
This is handy for saving all of AIOSEO settings when you backup your WordPress site. Also handy for quickly setting up global AIOSEO settings on a new website. I use this module to do an export of my settings each time I do a site backup.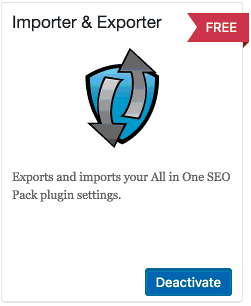 Setup
---
Now, let's get these set up and running. I'll show you how I have mine set up. Of course, you will want to adapt for your own usage.
General Settings Menu
These are the general global settings for your whole website.
In the Home Page Settings section, be sure to set the Home Title and Home Description fields. These set the title and description text that appears on the search results page. Below is an example of what these fields look like in search results. The Title is on top, followed by the home page URL , and the Description.

One thing I like to do in the Title Settings section is change all of the "|" (pipes) to "-" (hyphens) in all of the title format fields. For example in the Home Page Title Format field, Change:
%page_title% | %blog_title%
to
%page_title% - %blog_title%
Ditto for the other title format fields that have a "|" separating the two title names. I think the hyphens look neater.
Pages and Posts
---
Whenever you create a new page or post, All In One SEO gives you an opportunity to set meta tags for that page or post. Below the WordPress editor area you'll see a box for All In One SEO Pack with two tabs, Main Settings and Social Settings.
Main Settings
Here you can set SEO Title and Description just like for the home page in General Settings. You also get a handy preview snippet of what your page/post will look like.
Below title/description you'll see six checkboxes, four are for Robots Meta. Normally I leave these boxes unchecked (as they are by default) except for "Privacy Policy" and "Affiliate Disclosure" type pages.
For these policy/disclosure pages, I'll check all four of the Robots Meta check boxes so that search engines do index or follow these pages. These pages contain generic legal disclosures that are often duplicated on many sites, and do not contribute any relevant content that you want to have indexed. Allowing this duplicate information to be indexed can harm your SEO ranking somewhat. So it is best to check the NOINDEX, NOFOLLOW, NOODP, NOYDIR boxes in these cases.
Special "hidden" landing pages that you create solely for PPC campaigns are another example where you will want to check all four of the boxes.
For everything else that you want to be searchable, leave them unchecked.
There are two more checkboxes. One to exclude this post or page from your XML sitemap. The other to disable SEO meta tags for this item. I leave these unchecked.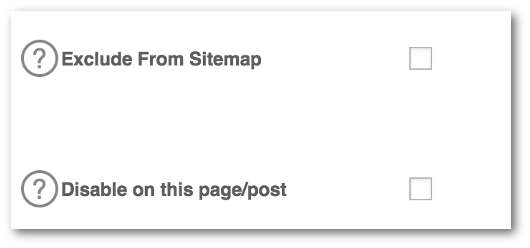 Social Settings
This lets you set how this page or post will appear in a Facebook or Google+ share, or in a Tweet. This is also covered in detail at my How To Make Your WordPress Blog Sharable post.
Note that this does include any kind of sharing buttons. It just manages the social meta tags. For the buttons, I use and highly recommend Ultimate Social Media PLUS.
Keyword Settings
---
In the settings section, you'll see fields for enabling and setting keyword meta tags. Leave these turned off and don't put anything in those fields. Keyword meta tags are no longer useful for SEO purposes. Google has changed the way their ranking rules work to avoid ranking sites who stuff keywords for the purpose of ranking better in search results. Keyword stuffing is a form of Spamdexing.
Don't use them! Focus on writing relevant and useful content and using just one or two relevant long tail keywords in your text, and/or in your meta Title and Description.

Help
---
For full and detailed help on any area in AIOSEO, click on the "Help" button at the top right of every feature section. This will take you to the detailed help pages for that item. You'll also see the help "(?)" icon by most of the fields in each section for specific help on that. I find that very handy – I'm always forgetting stuff! Okay, what does this do?….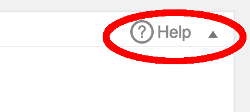 Conclusion
---
You can't go wrong with this no frills, just lean n mean useful, plugin. It is no wonder All In One SEO is one of the most widely installed plugins for WordPress. Let this one be first plugin you add when you setup a new WordPress blog!
Oh, and join their affiliate program, too. It'll make you a millionaire overnight – NOT! They will however give you a hefty percentage if someone you refer purchases the PRO version.
Cheers, happier meta tags, awesome shares, and better SEO ahead!