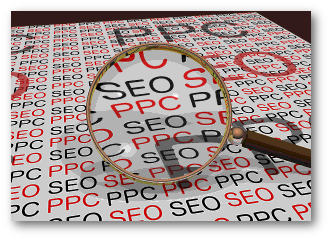 More three letter acronyms! Life is full of them. So, just what the heck are these two? So first off…
What is Search Engine Optimization? (SEO)
---
SEO is the art of tuning up, or optimizing, the way your web site or page will appear in search results when people enter certain keywords.
It is how search engines sort through the content of the all web pages that get indexed to find the best matches for search keywords that are entered in the search field. Pages that are considered most relevant to the search will be ranked higher on the search results pages. The most relevant stuff will make it to the coveted top of page one and will be the first results the user will see. It is also the one that will get visitor traffic.
What is "relevant"?  It is defined as "Important to the matter at hand.". The "matter at hand" being the search term that a person enters on the search bar. This is what search engines are trying to deliver to the end user when they perform a search. It is our duty in return to make the content we write important and valuable to the type of audience we wish to attract.
Now we need to attract the right audience. We need to get an idea of what they are searching for.
There are keyword research tools that can be used to determine what keywords your desired audience is entering most often. Once determined, this keyword phrase is typically placed in a couple of places. Usually the post title and maybe somewhere in the first paragraph. It can also be placed in your search title/description meta tags, too.
The benefits of an SEO strategy are that it is free. It does not cost a dime – you just give it time! You can build a base of followers from out of the blue searches.
Downsides are that it is of a "Play and pray" nature. You are at the whim of what the search algorithms consider to be "relevant". You do have to write up a lot of content and maintain activity/engagement at your website for it to stay fresh and rank favorably.
No cheating! We also have to be careful not to abuse keywords as this can result in being "penalized" and ranking lower. Modern search engines have become very vigilant against keyword spamming (aka "Spamdexing") and other "black hat" SEO tricks spammers may use to game the system. Safest bet – don't obsess with SEO, focus on your content. Put yourself in the shoes of your visitors. What do they want to read and see?
Another disadvantage is that popular keywords are highly competitive. There's no chance of the "little guy" ranking anywhere with these. You're a little fish in an ocean of sharks!
To make to the best of SEO, it is a good idea to target "low competition" keywords. Keywords and search phrases that are more specific and targeted. Also known as "long tail keywords". By devoting entire posts to targeting very specific keywords, you then become a big fish in a small pond!
The key to building high traffic to your website, is write many posts, each with high quality content, each targeting a specific low competition search term. Instead if trying to get 1000 visitors to one page targeting high competition keywords and having no chance of ranking, you're creating several posts that may each rank much better, but each will attract maybe say for example 10 visits. However 100 posts, each attracting 10 visits gets you 1000 visitors using low competition high ranking keywords.
What is Pay Per Click? (PPC)
---
PPC is the art of choosing groups of keywords and bidding, auction style, for placement in search result related ads with other advertisers targeting same or similar keywords. The higher the bid, and the quality and relevance of your landing page, the higher your ad places in the list.
In a PPC strategy, you don't really need to worry as much about being SEO friendly, but you do need to make your content super relevant to the keywords you've chosen for your ad campaign. This relevance is also a factor that will determine where your ad will place. In fact, very well written ads can place higher than ads with higher bid amounts, but not so well written.
To participate in PPC, especially Google AdWords, you need make sure your page content is relevant and useful to what the user searched for. Users don't want a "bridge page" full of banners and affiliate links. This can get your PPC account closed down! Do your due diligence first. Know what you're getting into.
A big advantage of PPC is that once you've got a good post or page that converts, you can "scale up" by simply buying more clicks and bidding higher. You also do not have to wait and see as you do in SEO. As soon as you kick off your ad, you're in the search results instantly based on your bid amount!
Like with SEO, the rules around PPC are constantly changing and evolving. One thing has remained constant over the years – relevance is what will convert best in a PPC campaign. In other words, make visitors will feel like you've met or exceeded their expectations. A good high relevance campaign can last for years!

Additionally, PPC can become a source of passive income! A working PPC campaign can keep going for months, a year or more, with minimal attention, other than watching the cost and stats.
Disadvantages of PPC are that it is a "Pay to Play" system and it can become very costly if you're not careful. Before you start, you need to make sure what you place into a PPC campaign is known to convert. When starting any new campaign, it is a good idea to start with small bids (something like 25 cents) and see what sticks and what doesn't. From there, you can decide to scale up working campaigns and discontinue the duds.
SEO can also be a good way to find candidates for PPC. This can be a post or page that has been converting well using SEO traffic. This will help minimize funds lost on test campaigns that don't work out.
PPC can be awesome, just don't let it turn into gambling!
You may even want to develop special landing pages devoted only to PPC campaigns. It is a good idea that these are hidden from search engine indexing. This will help shield the rest of your site from any impact the PPC stuff might have since you have the liberty to go against SEO best practices here, and focus on optimizing for relevance to your ad.
SEO is play and pray. PPC is pay to play. They both work great together!
How A Keyword Research Tool Can Help You
---
More on that keyword research thingy. Both PPC and SEO rely on carefully chosen keyword phrases, a good keyword research tool is vital! You want to find those low competition nuggets. In SEO, low competition means a better chance of ranking on that first page of search results. In PPC, low competition translates to getting your ad placed higher for a much lower bid amount. Fewer ads to compete with.
I have a sweet spot for the Jaaxy keyword research tool. I love entering a search term and getting back a bunch of suggested keyword phrases with competition info like the number of Quoted Search Results (QSR), and the estimate of traffic that term may generate to your site if you were to land on page one of the search results.
Oh, And just where am I learning all of this stuff?
---
But, the world of SEO and PPC is a confusing jumble of (mis)information and "opinions". How in thundering tarnation do we sort out what will work for us?
There is nothing more helpful than taking a complete training course on online marketing. Especially one that has been around for more than a decade and has produced many success stories.
If proper training is something you are searching for, I invite you to come check out Wealthy Affiliate University! It's the best thing I've found out there.
Start Here: Wealthy Affiliate University
At the very least, I do hope my little post here helps clear the murky waters around SEO and PPC. Your questions and comments are welcome. Please do leave them below.
Cheers and best,