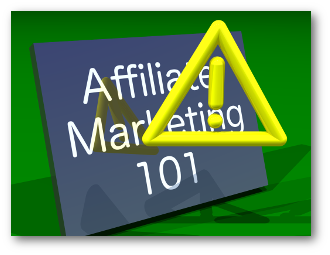 Affiliate marketing  is a fun way to earn some income from your own website. It is easy to get set up and running, and even easier to get into trouble if you're not careful!
Below is a list of some of the biggest affiliate marketing mistakes that beginners may make, along with some tips on how to avoid them.
Trying To Sell Everything
---
We've all heard the saying "Jack of all trades, master of none"! Same goes for trying to go too far and wide on a niche website. You are much better of focusing on your niche and the products or services related to it. Trying to do too much can be overwhelming. Especially when you're new to online business.
An added benefit of being focused on your niche, is that you can build a large collection of specialized articles and product reviews or experiences. This body of knowledge will attract a lot more traffic to your site. It tells your audience that this is something you specialize in and know about. You become an authority!
Not Trying the Product Yourself
---
Ideally, one should be actively using, or at least try, the product or service that they are representing. This adds much more authority and honesty to your reviews and posts about it. Sharing your own personal experiences with the product makes your write up much more interesting and original. Having lots of relevant and original content is what will rank higher in search engine results, too.
Otherwise, who knows! You may be putting your name on a product that sucks! So, try it out first and see if it is something really want to represent. Knowing intimately what you are promoting and keeping your website dedicated to that particular niche, will as I've stated previously, tell your visitors, that you know this stuff!
Folks want to know what your's and others' experiences are before making a purchasing decision. This will earn you a lot more trust in the online community.
Joining the Wrong Affiliate Program
---
Resist the temptation to jump in to the first program that comes up. Take some time to research the programs out there to find a best fit for your niche. More importantly, you want to avoid becoming involved with a scam!
Choose a quality product that you believe in and enjoy! Too many folks are trying to promote crappy, mediocre products just to make a quick sale. This gives affiliate marketing a bad name. Don't be part of the problem. Put yourself behind a high quality, reputable product – something your customers will love.
Of course, try the products yourself! Your customers will love you and they'll come back for more!
Quality is everyone's responsibility.
–W. Edwards Deming
Violating Terms Of Service
---
Make sure you've read, and fully understand, the Terms Of Service (TOS) and any other "fine print" associated with the program you're joining. Merchants do not want to look bad or, worse yet, face legal liability because somebody is spamming their affiliate links all over the place. Therefore some rules have to be laid down.
It is very easy to do something that seems "innocent" but can be in violation of the TOS. Violations can get you banned temporarily or permanently from a program! Participating in an affiliate program is a privilege – please make sure you follow the house rules!
If you are trying a new idea for promoting your links, re-read the TOS to make sure what you are doing is legit. Review the TOS periodically for any new changes, too. Don't hesitate to ask the affiliate program administrator questions about anything you want to try.
The same is true of any social media platforms you promote on – please read and understand the TOS!
Too Many Affiliate Programs
---
Once you've got a new site up and rolling, it is all too tempting to sign up for every affiliate program out there. STOP! Before you do, is this a product that is relevant to your niche? Does it apply to the subject you are posting about?
Start slowly and cautiously. Start with one program at a time. Try it for a while and see if it works for you and your style. Get familiar with it and get some results with that program. Then you can consider joining more programs or dropping ones that don't work.
Website Not Ready
---
Many programs like to review your website while considering your application to join. They want to see what you're made of. They want to be assured that you are solid. Have you, or will you, be around for a long time? They may even want an estimate of how much traffic your site or blog receives.
You will want to take the time to prepare a presentable website before joining any programs. Get users visiting and engaged in comments. Build your foundation first!
Spamming
---
Thou shalt not spam! Never post affiliate links directly to social media platforms, other people's sites, message boards, etc. Virtually every program out there has strict rules against spamming. As mentioned above, please read the terms of service for the program you're using and also those of any site or platform you wish to share on. Many platforms do not allow you to post affiliate links directly.
It is better to share links to your website or blog. In other words, keep the affiliate links within your website.
Attracting the Wrong Audience
---
Your target audience is very important! Make sure you are promoting your site to the right crowd on social media or in message boards. Use a keyword research tool to discover what your audience is searching for over the search engines. More info on keyword research here.
Buy! Buy! Buy!
---
Too much emphasis on trying to sell the product. Okay I wrote a little. Here's the link, now buy! Buy, buy, buy!
Your visitors came to your site looking for useful information. Your job is to deliver that. Write up a detailed review, share your stories and experiences. Demonstrate cool stuff that can be done with what you're promoting. Don't sell, Show!
A good product will sell itself – no need for high pressure sales. It only makes you look bad. Be patient – sometimes it takes several return visits before a buying decision is made.
Providing an option for your visitors to subscribe to an email list can be helpful for encouraging return visits. People want to get to know you first! Think of it like building a relationship and gaining trust.
Too Many Affiliate Links
---
This can be harmful if your are relying on search engine traffic. Too many affiliate links and not enough content on your pages will negatively impact your ranking in search results.
Search engines will see it as a "bridge page". That is a page that just has banners and ads on it and little useful content. These will rank low in search results.
I find it helpful to do a detailed product review in one post and place the affiliate links in that post. In other posts or areas of my site where I mention that product or something related to it, I'll add a link that points back to the detailed review page. Sort of like comparing pouring water into barrel full of holes (having affiliate links everywhere) versus pouring water into a funnel (direct all of your traffic to one page where the actual affiliate links are).
Search engines will like you much better, too! Lots of useful delicious content to navigate around in and only a few pages containing affiliate links.
Pro Tip: Keep the affiliate links "below the fold". That is, the user has to scroll down before the links appear. Another SEO "gotcha".
Let's Do It Right!
---
One bad mistake can undo months of hard work! So, how can we avoid these mistakes?
Do your due diligence. Learn from others and save yourself a lot of "hard knocks". Don't venture into the uncharted waters of Affiliate Marketing alone! I have been very fortunate to be part of an active affiliate marketing training community. I would not have made it here without them.
Without further ado, check out my number one choice for learning the ropes of building an online business:

I hope that what I've shared here will save prospective internet marketers some headaches, or better yet, avoid disasters. Your comments and questions are welcome below!
Cheers and all of the best,