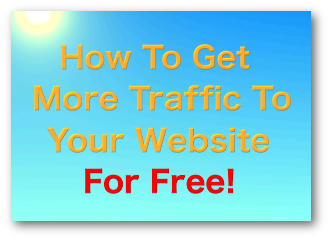 We all know how vital visitor traffic is for our businesses – online or offline. Here are some realistic ways to get free traffic to your website or blog.
First a caveat: You've probably searched on the subject and have seen all of these "get free traffic" ads where you simply submit your website address and they in turn, direct traffic to your site. Right?
I would avoid these like the plague. They may become a source of unwanted "referral spam" in your analytics. Not only that, the manner in which they link your site may be harmful to your site's SEO.
You're opening an unknown can of worms…
Instead, let's look now at some ways I have found to be useful. It's going to take a little more work than submitting your website url to some magic traffic-o-matic generator 🙂 The upshot is that the effort invested will be well spent in the long run! Most importantly of all, you are in control of how your website is being promoted!
Search Engines
---
Naturally, the traffic you attract your way from search engine search results is one option. A drawback to this approach is that when your site is new, it will take a awhile for organic search traffic to start coming. Your site needs to build trust in the search ecosystem. Content on your site will start to rank higher as your site matures.
There are steps you can do to help this process along.
What has worked best for me is to simply focus on creating quality, relevant content. For each post I write, I'll choose a relevant search phrase – a set of keywords – determined using a keyword research tool. There are a few free or "Freemium" options out there. I have been using a paid keyword research tool called Jaaxy with very good results. You can sign up and get 30 searches for free.
Then I'll write out my content and place the keyword phrase in one or two spots. Ideally the post title and/or somewhere in the first paragraph. Perhaps also in the last paragraph.
Important! Don't overdo using your keyword phrase in your posts. It looks unnatural and may cause your content to not rank well. Search engines may see it as spam. One or two instances is good enough!
Very importantly, put yourself in the shoes of your desired audience.
What do they want to read?
What are the looking for?
Will they want to come back?
Will they leave with something useful?
Do keep adding and updating content on your site. The frequency of activity will help your site rank better.
Comments
---
User interaction is a great way to increase traffic. A blog or any format where users can interact, ask questions, leave comments will show that your website is alive with fresh activity.
This looks great to search engines as the added activity, and added content from comments, will draw more search traffic.
Images
---
Eye catching images can also attract traffic to your site when people browse Google Images. Give your image file a name based on a search phrase you chose above. For example, something like "how-to-use-images-for-free-traffic.jpg". When you add the image to your post or web page, set the "Alt text" attribute to a similar or same search term. Alt text is that placeholder text that appears briefly before the image loads and pops up when the user hovers over the image. For this example it could be "How To Use Images For Free Traffic".
Of course, choose or create in image that represents what you're writing about. Create an infographic or diagram image.
These types images are perfect for sharing on social media platforms like Twitter, Pinterest or Instagram and others.
Social Media
---
Share your spankin new website on social media! You've worked hard to gain all of those friends and followers. You have a ready made audience eager to know what you're up to.
Whenever you publish a post or add content to your website, share it! When you share, add some comments and invite your friends to check it out.
If you want to ensure that your shares look exactly the way you want them to look, there are meta tags you can set to control this. I written a post on how you can do this in WordPress.
Facebook
---
Creating a group or page dedicated to your site is another get avenue for free traffic. Additionally, being the administrator of a page, Facebook gives you tracking of visitors and traffic to your page so that you see what works and what doesn't.
Google+
---
Google likes Google! When you share your activity to your Google Plus account these will tend to show up more frequently in Google searches.
Having a link to your Google Plus account from your website makes this work even better!
Twitter
---
You post it, Tweet it! Twitter is great way to share an image or infographic from your site. As mentioned in the Images section above, create a simple "infographic" type post and share this via Twitter or pin it on Pinterest.
In fact Twitter is a whole world into itself for building traffic and followers. Check out this Ultimate Guide on How To use Twitter at Wealthy Affiliate, my training resource of choice.
Business Cards
---
Let's not forget good old fashioned offline promotion. Make yourself a deck of business cards that have your website info on them. Share these in your face to face encounters.
Including a QR code on the back, will make it easy for your buddies to jump to your site from their smartphones or tablets.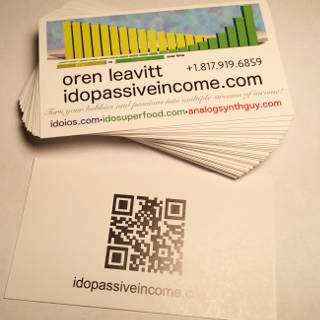 If you're bold, print your website address across the top of your car windshield or on a magnetic car door sign! A T-shirt?
Video
---
Creating videos related to your site and linking to it from YouTube is yet another for visitors. Embedding video content in your site will make it more engaging as well.
Email
---
Yep, good ol' email! Include a link to you website in your email signature. Configure your email client to automatically add this at the end of each message you send. This will give you an extra trickle of free traffic.
Quality Content!
---
How to keep building traffic? Keep building out more and more great content! Nobody is going to stick around for long if your blog or website sits still.
I like to keep my content focused and relevant on the subject of my niche, but at the same time inject humor and make it fun. Make it "conversational" as if you're shootin the breeze with good friends on a Sunday afternoon. Be natural and have fun, but be focused.
Remember, you're communicating with another human at the other end!
Post frequently and regularly. Here is an interesting study that shows how traffic increases exponentially with the number of posts you publish.
Google Webmaster Tools
---
Google Analytics and Google Webmaster Tools are valuable resources for monitoring your traffic and getting a sense of what's working and what's not. We all like charts and numbers! It is always a pleasure to see who's visiting from where.
Additionally, I find Google Webmaster Tools provides a great opportunity for me to "tune up" my website.
Spam is a No No!
---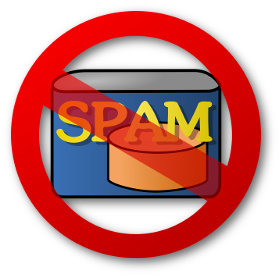 Hate mail, bad reputations, getting on a dozen blacklists are not the kind of free traffic you want! Do your research and learn what constitutes "spamming" and steer well away from doing anything that may harm your hard earned good reputation!
Additionally, please be sure the manner in which you solicit free traffic does not violate the terms of service for any affiliate programs you are involved in. Likewise for any social media platforms you post to.
Conclusion
---
I hope this post has stirred up some ideas on how you can attract more traffic to your own website or blog. A lot of these may contribute just a little traffic, but when used together, they add up!
Your comments, feedback and questions are welcome!