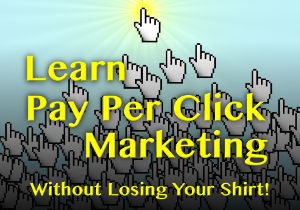 In this article, I'd like to show you how to learn pay per click marketing and avoid common mistakes so many newcomers make. PPC can be very costly, like a bad day at the casino, if you're not careful!
Pay Per Click (PPC) is basically paying to advertise or promote your offer or content on search engine results pages. Google's AdWords or Bing's Bing Ads are a couple of examples.
While there are plenty of ways to get free traffic to your blog or website, it either involves a lot of work, a long wait, or you are at the mercy of what organic SEO traffic can attract to your site.
Paid advertising can put you in the "fast lane" and give you a jump start on getting targeted traffic to your site.
We can just take stab at it on our own hope it works, or we can learn from others and take a more calculated approach.
But, what about all of those traffic sites out there promising to send tons of traffic to your site for a low price? I would resist any temptation to buy into any of these as a short cut to getting traffic to your site. You may get a lot of traffic, but it is likely to be of very low quality and not well targeted (if at all) to the niche you're targeting.  You will be much better off learning how to set up and manage your own paid advertising campaigns on search engines. You will have much more control of how you're targeting your audience!
First off, the most important thing to keep in mind for any PPC campaign:
Relevance! Relevance! Relevance!
---
Every recipe has that secret ingredient that makes it so good. If paid search engine marketing is a recipe, relevance is the secret ingredient that is going give it the taste of success! Relevance is what you need to make your campaigns rank high and keep your cost per click (CPC) down.
Focus on keeping the content you're advertising highly relevant to the keywords you have chosen for your ad. Your visitors clicked on your ad because it matches a keyword they entered. Your job is to deliver material relevant to that keyword!
Search engines factor in how relevant the content your ad links to is to the keywords you've chosen for your ad. If your page is super relevant to the keywords, you'll get a boost in placement on the search results. If done right, you can rank high without having to pay a higher cost per click!
On the other hand, ads that are not linking to relevant content or just pointing to bridge pages full of spam links, are not going to rank no matter how much they bid. Don't ever do this – it can be a violation of the terms of service and you can lose your account!
This is how search engines protect their audience against spammers – by making sure you are offering something highly relevant to what was searched for. Deliver what you promise!
Baby Steps
---
We've started with the core item you need: relevance. Let that sit in the back of your head while we start taking those baby steps forward. In paid search advertising it is very important to take baby steps when getting started. Small failures are easier to deal with than big ones! When starting out, you're going to have campaigns that don't work and campaigns that do. Let's look at how we can make the odds better of creating working campaigns.
Learn how to write articles that convert.
Use articles that you know are converting.
Create special "hidden" landing pages for your campaigns.
Start Small – Until we know what is working and what is not, we must start small.
Test And Compare Results.
Start With BingAds.
Bing Ads is a great place to try your first PPC ads for a number of reasons.
Their price structure is cheaper than Google.
Bing is a little more forgiving of "newbie" mistakes.
Yahoo is part of Bing. When you advertise on Bing, your ads show up in Yahoo searches, too.
One third of internet searches are done on Yahoo and Bing.
Once you become comfortable with the process you can try out Google's AdWords.
IMPORTANT >>>>> Read The Terms of Service (ToS) for whichever platform you advertise on and follow the rules when creating paid ads!
Please be careful – you have a lot of eggs in one basket. It is very easy to lose a major source of income if your account is suspended because of a ToS violation. As mentioned earlier, irrelevant content or out right spamming is one sure-fire way to get in trouble – make sure what you're offering is relevant to what your visitors are searching for!
Scale Up What Works!
Working out PPC campaigns that work takes a lot of initial work and experimentation. What's nice is that  once you polish up a few good campaigns that you know work solidly, you can scale these up to larger and longer ad runs. You can see how paid advertising can also become a source of semi-passive income!
Reinvest!
---
Woo-hoo! You've earned some money! The temptation for many is to run out and spend it on whatever. Hold yer horses, partner! Smart business always first reinvest a portion of their earnings before taking what's left as profit. In the beginning, they usually reinvest all earnings until they become profitable.
Since this is paid advertising that you have likely started on a very limited budget, it makes sense to roll those initial earnings back into the successful campaign(s) that earned it. Get the snowball rolling and growing!
Some of those earnings can also be reinvested into testing new campaigns and other paid advertising options, starting small of course!
One Last Very Important Step!
---
Where did I learn all of this? Nobody taught me this in Little Dipper school! Like I said earlier, pay per click marketing has to be done right or you can lose your shirt!
Often we do best when we are able to look over the shoulders of experienced marketers and follow in their steps. My preferred and most trusted training resource is Wealthy Affiliate University. Click below to learn more!
Click Here to Learn More!
That's it for my quickie intro to search engine marketing. I do hope it gave you an overview of what you're getting into, how to avoid some of the traps, and where you can go to get full A-Z training.
What kinds of experiences have you had with advertising on search engines? Your comments, questions and thoughts are welcome below!