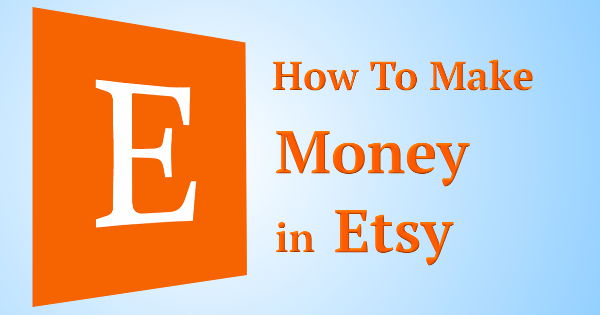 I'd like to share with you an interesting idea on how to make money in Etsy!
I remember not so long ago when this humble little arts and crafts site called "Etsy" appeared online out of nowhere! Founded in 2005 and headquartered in Brooklyn, New York – Etsy has since grown into a bustling international marketplace of almost two million sellers offering all sorts of one of a kind goods.
In 2015 alone Etsy did almost three billion dollars in annual sales of goods used and new. This includes everything from vintage clothing to hand made jewelry to wood carvings to steampunk table lamps to well, anything! Not bad for 12 years.
Where there is this kind of volume in business, there is a ton of opportunity for us as entrepreneurs. So, how can we chip in on this bonanza?
The Etsy Affiliate Program
---
Etsy has an affiliate program you can join and refer prospective buyers to an Etsy link containing your affiliate identifier. You earn a commission on any approved sales made as a result of someone you referred to Etsy.
Now we need to connect with interested customers. Do you have a blog or a website? If not, they're super easy to create these days. Viola now you have one! So let's check out some cool ways you can promote Etsy affiliate links on your own blog website.
First off, do you have a particular niche or interest that you like to focus on? I would highly suggest choosing a specific niche to dedicate your site to rather than have it be a mish-mash of mixed material. This will help you attract a highly targeted audience and make it easier for them to find you.
Curating Finds
---
Let's say you have a site about dogs.  You are browsing Etsy and you find this seller who makes these nifty dog collars and leashes. You can then write an article to your dog website about these awesome collars and leashes. In the article, you can share your Etsy affiliate links to the seller who makes the goods.
As another example, let's say you like blogging about leather, wood, or metal working. Maybe you're writing a "how to" article on how to make something. There are tons of leather, wood and metal goods, raw materials, and tools offered on Etsy that you can link to.
Maybe you're doing something about homes or interior design. You could conceive a themed room design and browse Etsy for various hand made furnishings to go together in that room. It's sort of like "Do you love this idea? Here are some places you can get all of these items and make it happen!"
If anyone in your targeted audience, clicks into Etsy via your link and purchases stuff, you earn a commission!
Selling Stuff
---
Of course, there is the option of opening your own Etsy store and selling stuff. Maybe you have a particular unique craft or hobby that involves making cool hand made goods. Why not capitalize on it as another stream of revenue?
Making Crafts
Making jewelry
Vintage clothing
Custom clothing
Sewing
Steampunk
Leather goods
Dog collars
Equestrian equipment
Wood carving
Wood working
Furniture making
Glass work
Paintings and drawings
Model making
Dioramas
Knitting
This list can go on and on! Just a quick browse through Etsy reveals just how limitless our imaginations can be!
Upcycling
Upcycling is the creative reuse or recycling of worn out, obsolete, or otherwise useless items into something new and unique. For example a worn out leather belt can be cut up and made into bracelets. Old clocks or other items with lots of intricate gears and parts can be made into Steampunk art and fashion accessories.
Preparing Craft Making Kits
There might also be some common parts or subcomponents that go into a particular craft or form of art. You could prefabricate these items and sell them as a convenience that saves craft makers some tedious steps or processes that otherwise consume time they would rather spend on their craft.
Raw Materials
If you have access to an abundance of raw materials that are commonly used in arts and crafts, these can be sold at your Etsy store.
Okay, How do I do make it happen?
---
Throughout my website I cover a lot of topics on how to set up and monetize your own blog website. Check out the Getting Started page for a start. If you are seriously interested in building a solid foundation for your online business, please come check out the awesome training you can receive at Wealthy Affiliate!
Learn More!
These are just a few ideas an how to make money in Etsy by promoting "finds" via their affiliate program, or by offering your own unique goods. I hope this can add a few more income arrows to your passive income quiver!
Your ideas, thoughts, questions and comments are welcome!
What awesome "finds" can you share?