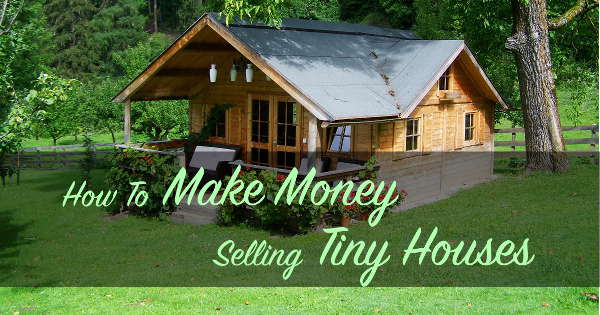 Let's take a dive into an exciting new way to make money selling houses – very tiny houses in fact!
Tiny houses are essentially very small homes about the size of a mobile home or even smaller, but they are built like a full size traditional home. Many tiny home designs can even be built on a trailer for easy relocation.
As interest in sustainable living grows, and as real estate becomes more expensive, tiny houses have been growing in popularity as a way to reduce consumption of energy and other resources. They also offer a very affordable alternative to owning a traditional home or to paying rent.
As with any trend or movement, many opportunities open up for entrepreneurs to earn income. Let's look at some ways we could cash in on the Tiny Houses niche. This is a perfect niche for the handyman or woman, or retired contractor looking for an extra buck!
Blog About Tiny Houses
---
To sell stuff, you have to reach and engage an interested audience. Tiny houses are a great subject for a dedicated niche website or blog that can be promoted. People are searching the internet for ideas on every aspect of living in a tiny home. Just to scratch the surface, some example topics you can write articles about can include:
Building plans
Choosing location
How to downsize
Tiny house communities
Accommodating car and garage
Are you doing it legally?
Zoning and building regulations
Solar power and heating
Wiring and electricity
Utilities
Security
Insurance
Water, sewer and plumbing
Trailers for Tiny Homes
Landscaping and gardens
Tiny Home as a studio or addition
Off grid living
Growing your own food
Accessories
Blogging is a form of activism. Many cities have regulations and requirements that are not friendly to Tiny Home living. Your blog can help spread awareness of the issue and spark political change. The city of Spur, Texas has become the first city in the US to become Tiny House friendly.
A blog is a great place to share photos and drawings of floor plan ideas. This is a great topic where visitors can engage in the conversation in the comments area. This creates activity on that helps to attract more traffic to your site!
Your imagination is the limit!
The key point here is not to "sell" but to write up high quality relevant content that is useful. Show your audience all of the useful ideas and experience you have to offer. Doing some keyword research will help you get an idea of what kinds of internet searches people are doing that are related to tiny houses. Make each article you write highly relevant to the keyword you've chosen. Give 'em the answer they are searching for!
Remember you are not dealing with statistics. These are real people who have questions and are looking for ideas, or they may be ready to purchase a home. Your job is to provide answers and stimulate ideas. Make your visitors glad they came to you!
Stuff That Can Make Money
---
Tiny House kits and plans
On this site, I dive into the subject of affiliate marketing often as there are so many types of products and services one can earn commission income from. Tiny houses are one of those! Here are some tiny home manufacturers who offer affiliate programs:
Tumbleweed Tiny House Company
Tiny Home Builders
Of course, there may be many more out there!
Related Products and Services
There are lots of products and services related to tiny houses that can be promoted. For example, you might write an article about solar power for tiny houses. In that you can link to suppliers of solar panels and power units. There are many suppliers who also offer commissions for referrals via an affiliate program.
Security systems and insurance are additional items that be promoted.
Of course there are all of the other little odds and ends that can be offered through the Amazon Associates program.
The beauty of this niche is that you don't need to make a lot of sales to earn a full time income!
Your Own Products
Additionally you can come up with your own products to offer. For example, your blog might accumulate enough great articles to compile into an eBook that can be sold. You could compile some of the blog post topics listed above "how to" eBooks. For example, there are growing problems with legal, permitting and regulatory issues around building tiny houses. This can be a great focus area for your niche blog or an eBook.
You might even come up with great tiny house plans that can be sold on your site.
Conclusion
---
The Tiny House revolution can spark a new way to make money selling houses! Just doing a little keyword research around tiny houses reveals lots of low competition keywords that can be used in your posts to bring you targeted search traffic.
Not only that, owning and living in a tiny home can save you a ton of money. You could easily make a full-time income blogging about tiny homes while living in one!
I thought I'd pitch this idea out there as yet another great niche to explore. As always, your thoughts, questions and comments are welcome!
Happy Tiny House hunting!