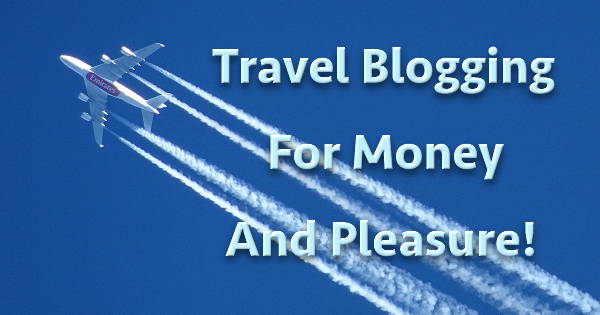 I don't think it gets much better for the travel enthusiast than to be travel blogging for money and enjoying a great vacation at the same time!
Mobile devices and laptop computers have made it easier than ever to capture photos, video, and write a great travel blog while on your adventure. However, not many are aware that they can easily turn that blog into a source of income – even enough to live very comfortably on! So the travel budget and vacation time run out and it's back to the grind for most of us.
So, how do we do it? Let's explore some options…
What can I write about?
---
Destinations
Of course, you're going to a special place. That alone is going to inspire a lot of material for your blog as well as photos and videos.
Itineraries
You might have lots of great suggestions of sights to see and best routes and times to do it within certain time frames. Offer up some preplanned itineraries for each day. Or that one thing you must do if you're just visiting for a day.
Avoiding trouble
Tell stories of tough situations and things that went wrong, and how to avoid them.
Laws and customs to be aware of in foreign countries. These are very important considerations for anyone venturing into another country. Definitely share what you've learned and offer pointers to all resources travelers will need to make sure they are in order.
How to avoid getting sick while on vacation, and what to do if you do.
Pro Tips
Little known "secrets". Write about tricks and "pro tips" you've learned.
Traveling Lightly
You probably know a ton of tips on how to pack your luggage efficiently and prepare for a trip. You can write about how to travel with just one carry-on or no luggage at all!
Food and Cuisine
You're bound to discover some unique foods and may want to share the experience and offer some recipes.
Near By Adventures and Day Trips
It certainly doesn't have to be international. There's plenty of destinations within your own country – trip reports about a national park. Visits to historical places. Spelunking in caves. Just a trip to another city, that antique shop along the road, or the road itself – it's all material for your blog!
Theme Parks!
As a roller coaster and theme park enthusiast myself, I can't help but bring up this subject. I enjoy taking part in the various events that American Coaster Enthusiasts (ACE) put's on across the USA! There's a boat ton of stuff to write about here – trip reports, roller coaster experiences, new park construction, vintage amusement parks, old wooden roller coasters, etc!
Transportation Buff
The mode of transportation. Trains, planes, cars, motorbike, horseback, bicycle, unicycle, on foot, wheelchair – however you travel, there's something to write about.
So, how can I make money as a travel blogger?
---
Travelers spend billions annually on the many products and services associated with travel. Why not get your slice of the pie?
As you know, lot's of travel related stuff get sold online. But how do customers find this stuff? Quite often by reading a great article online and acting on some recommendations offered in the article. Perhaps you have an active travel blog or are aspiring to start one.
Affiliate Marketing
---
This is one way to monetize your blog. I talk about affiliate marketing a lot on this site because this approach is versatile and easy to implement. For a primer on it, check out:
There are many sources of affiliate marketing income that can be leveraged on a travel blog. The following list will give you an idea:
Air travel
Car rentals
Hotel booking
Checklists
Books and guides
Foreign language training
Travel insurance
Airport parking
Luggage and accessories
Travel kits
There are too many more to list here, but you get the idea.
Some of the major air travel booking sites like "CheapFlights.com" or "Kayak.com" have affiliate programs you can join and earn a commission on your referrals. You might conclude an article about an awesome destination with a find of, and a link to, some great airfares to that destination.
Don't overlook airport parking! Many of the major parking lot operators offer an affiliate program at their online reservation sites.
Review and recommend unique hand-made travel accessories available on Etsy.
Everything Else
It never hurts to be a part of the Amazon Associates programs. It is likely that you'll recommend or review odds and ends that travelers need which can be found on the retail giant, Amazon. Why not leverage their affiliate program and offer a quick way to make the needed purchase?
WalMart and eBay also have affiliate programs and offer tons of travel goodies.
Check out the major affiliate program networks like Commission Junction (CJ) or Share-A-Sale for merchants sites that sell travel goods like luggage, travel accessories, travel kits, etc. Some of the smaller places offer very generous commissions.
Other opportunities for income
---
Freelance writer
People also can be paid as a freelance writer to blog about their trip on other travel sites. Many travel sites are hungry for great content and may pay you to write up a trip report.
You may also be able to write on some of the larger travel sites as a guest blogger and leave a link back to your own blog. This is a good way to get more traffic to your site.
Tour guide
Maybe you know a certain destination very well. You may be able to be hired as a tour guide. This could be in another country or at a national park. You can take on the role of ambassador for other visitors!
Peace Corps
Many people take advantage of the Peace Corps volunteer opportunity to live abroad and offer services in a developing nation such as teaching English as a second language. Basically your room and board are paid for, and you receive a payment upon completion of your service. A term in the Peace Corps can be a great source of inspiration for starting a travel blog.
Products of your own
---
You may have extensive knowledge and experience on a particular place or with other travel related stuff. This great material that can be compiled into eBooks, or even physical books, and offered for sale. They can be guide books, training courses, lists of destinations and itineraries, etc.
Ebooks get a bad rap because there so many crappy eBooks out there! But it is very possible to write up a high quality eBook and offer it to your loyal audience.
Next Steps
---
For building your website and learning the boilerplate internet marketing stuff, you're going want to get started correctly. Most importantly you'll want to avoid the costly mistakes and lots of trail and error! Learn from a community of friendly folks, from beginners to seasoned pros.
So, pack your bags and book a flight over to my Wealthy Affiliate page where you can learn more!
Show Me More!
Time to pack up!
---
Okay folks, the taxi is here – I gotta go! I do hope I have offered some useful tips on travel blogging for money and fun. Give it a shot – you might never have to worry about "getting back to work". You could even become the next Rick Steves! 🙂
Please feel free to share your questions, thoughts and comments below!