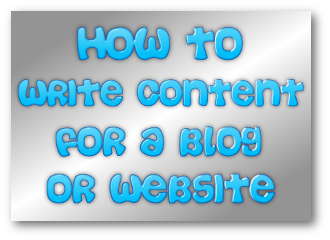 We all know that relevant original content is what converts. It is the one thing you'll spend most of your time on when building your business or niche blog. So, let's learn how to write content for a website or blog in an efficient, organized and timely manner!
It begins – there it is in front of you. That pristine white screen with no text on it, only the caret patiently blinking. Every awesome blog post you've ever seen begun its life as a blank page. Now, your head is swirling with ideas and you want to get it all on to that page in one piece!
The temptation for a lot of us is to just start typing from the top down, see what comes out, and hope for the best. Trying to write content top down is not efficient. The trouble is there's no outline or structure. You can end up with an unstructured wandering mess of words and paragraphs that drifts away from the topic. Like a train (of thought) with no tracks!
This can be very harmful if you're writing content to convert and get sales. You want structure and relevance to the subject, and for your readership to get the answer they were looking for what they typed in the search that brought them to you.
But first, let's…
Kill The Distractions!
---

They're everywhere! Run, run, RUN! Get yourself away from the nagging distractions. Turn off your phone ringer, the TV, the radio, close the social media tabs, hush the instant messengers, the email can wait.
Just relax, take some deep breaths and meditate if you wish. Do whatever it is that clears your mind and gets you dialed into your zone for writing. You may want to consider a writing app that is designed to be distraction free for writers.
There are web based distraction-free writing apps out there like ZenPen and many others. For offline use on your computer or laptop, one app I really like is FocusWriter (Mac/Linux/Windows). It is open source and 100% free, too.
Pick a time of day that you know is best. For example the early morning hours before everyone else is up, or after the kids have gone to bed or off to school – whatever it may be, find your best time slot. Put up a big "Do not disturb" sign around that time slot. 🙂
Research and gather ideas
---
Now let's do some research and gather ideas. Maybe it is something you know well and provide a full post right off the top of your head. In most cases, we often have to look around for additional ideas, stories, use cases, facts and figures to round out our blog post.
As you do your research, keep in mind close relevance to the keywords you are targeting for this post. What will answer your reader's question. Will they feel like they've gained something useful from you.
Structure
---
Okay, we are now ready to fire up the editor and put some stuff on that pristine white screen.
Let's start with some structure for your topic. We have to lay down some railroad tracks to keep that train of thought on course. Here's how I like to go about it. I'll make what I call an "IntroClusion" sandwich, and stuff it with ideas.
It begins with an introduction section. Here I'll open with an introduction to the topic. Maybe throw in some questions to get the reader engaged and thinking.
Next will be several sections each covering an idea, a key point, studies, statistics, anything else that covers a detail of your topic.
Finally a conclusion section where I can give a summary wrap up of the topic. If your running a business, this is a great place to mention products or services that are highly relevant to the topic you've written about. You can provide link to product review posts that go into detail on that product. The reader will have an opportunity to make a purchase decision at that point.
Back to our blank page, I'll drop the the seed structure text below onto the page. Each "Idea X:" line will be replaced with an appropriate section title. I'll give the section titles a heading style text such as the HTML H3 style for my WordPress theme.
Introduction:
Idea 1:
Idea 2:
Idea 3:
Idea 4:
More Ideas:
Conclusion:
Fill 'em Up
---
Use a timer and set a time to just type away for the introduction, each idea, and the conclusion. Don't try to be perfect or sound like a professor. Write naturally and be yourself! Your readership will enjoy reading what have to offer if you let it flow naturally from your heart.
Relevance check – stop for a bit and look back. As you complete each section read through it and verify that it is relevant to your topic and search key words. Is it contributing to the answer your reader is after?
Take A Break!
---
All righty, the content is written out! Now take a break – go for a walk or a run. Get the circulation going. You've been toiling over this post long enough! Get some sleep and finish up the next day.
Polish and Publish!
---
We're back with fresh eyes and mind. Let's pretty things up a little but not overdo it. It's your relevant content that converts, not bells and whistles. But you may want to highlight some key points in bold, insert a few relevant images to break up the long runs of text. Add some charts, graphs, maybe an infographic. Break up long paragraphs into shorter ones.
Sometimes I like to use the Cool Text: Logo and Graphics Generator to generate some eye catching "word images" such as the "distractions" one above. It's a nice little time saver.
Do you touch on topics you've written about elsewhere in your blog? You may want to add a link to that post where your reader can choose to visit it and read more. Set the link to open in a new tab so that they are not taken away from this page.
Go back an read it through once more, and if you like it, publish it!
Update and Refresh
---
Check back on old posts you've written. Maybe you have some fresh ideas to add, or some dated material that needs to be updated.
It does not hurt, and is in fact helpful to getting your site noticed by search engines, if your content is always fresh. It also important to check for broken links if you have any references to outside websites. Sometimes those change and become 404's – search engines don't like broken links! Check out my post on common SEO mistakes for more of these gotchas.
Comments are Content
---
Engage and encourage your visitors to comment on your blog posts. Comments add yet more delicious yummy content for the search engines to index! The regular activity tells them your site is alive and attracting traffic. This can help with your ranking from an SEO perspective.
But do be assertive in moderating comments so that they are on topic and do not detract from the relevance of your content. You want quality, not quantity. If you use WordPress, I highly recommend a good anti-spam security plugin like WordFence. This will help to screen out the robot spam comments.
Conclusion
---
Writing top notch content is a time consuming process. We want to get it done as efficiently as possible without cutting corners, getting sloppy or going off topic. Don't wing it. Structure and planning are crucial. Give your visitors that "Ah, this is exactly what I was looking for!" feeling when they come to your website and read your content!
I hope this post will start your New Year with some fresh ideas for your blogging efforts, and better yet, some conversions! Your questions and comments are always welcome!