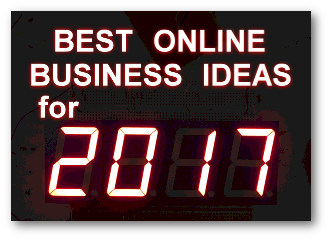 Happy New Year from Oren here at I Do Passive Income! A new year has begun, and with it comes new challenges and great opportunities. One can choose to be overwhelmed by the challenges and crawl under a rock – or one can prepare themselves for the opportunities ahead.
To kick off the first post of the year, I would like to share some great online business ideas that we as entrepreneurs can use to make this New Year and beyond a profitable, productive and fulfilling one.
The past decade has seen more successful startups, and online businesses than ever before. We are witnessing very young people earning full time incomes online before they've even left high school. Wow… Imagine never having to "get a job"!
Likewise, retired folks are finding ways to make additional retirement income by, for example, writing articles and promoting goods on a niche website.
The internet is changing the way we "go to work". There is an excellent article here about how many companies are embracing the digital workplace.
Many others frustrated with the status quo, or unemployed, wanting to be with the family full time, or just looking for extra side income are discovering creative options to earn income online.
So, what are some reliable business ideas with pursuing?
Freelance Work
---
You may have a vast portfolio of professional skills that can be offered. You have invested a lot of time going to and/or gaining these skills while working for an employer.
Freelancing gives us an opportunity to offer these skills to anyone outside of school or an employer. You are typically paid by the hour or a fixed price – for the entire project, or for the completion of phases in a project.
Good points about freelancing are that in a lot of cases you can work from home on your own schedule, although some clients may have deadlines that need to be met.
These days there are many freelancing gigs available in just about every imaginable discipline! The most common are creative jobs like website design and development. Mobile app development is growing steadily – there is a lot of demand for talented freelance app developers.
You can to choose what you want to work on and take as much time off as you want when you need to. There is usually no long term commitment. You can take on a short term project and decide if you like working with a particular client.
If you like a client, and they like you, this can lead to more projects and a long term relationship that is great for both of you.
The experience you gain while freelancing on several different projects can become the basis for developing a product of your own and starting a business.
There's the added security of being able work with multiple clients and projects. You're never "out of a job".
Some popular portals you can post your skills at are Upwork, Freelancer, Guru and many more. FlexJobs is also great place to explore for unusual remote work opportunities.
Downsides are that, like working for an employer, you are paid for your time and you'll have to keep putting in work if you want to get paid. There is really no residual passive income potential, unless you are lucky enough to be able to save a portion of your earnings to a retirement account.
SEO Specialist
---
With all of the business websites out there, and the complexity of the major search engines, there is demand for persons who have a knack for getting websites ranked on search engines.
With search engine technology constantly advancing and the rules always changing, this is a big task that many businesses just have no time for. So, if you are savvy with Google Analytics, Google Webmaster Tools, Ad Words, Bing Ads, Keyword Research tools, etc and good at getting targeted traffic to websites. Search Engine Optimization (SEO) Specialist could be a lucrative niche for you.
Creating Podcasts
---
Here's another niche business idea that is becoming popular. According these charts from the Pew Research Center, podcasting continues to grow exponentially in popularity as a communication medium. Incorporating a regular podcast into your business can be a great way to reach your audience when they are not at a computer or looking at a screen.
Podcasts give you the ability to engage your audience while they are driving, running or doing other tasks – anywhere a pair of ear buds can go!
Authoring an eBook
---
Ebooks are a dime a dozen and there is lots of worthless garbage out there. But great opportunity does exist for authors who want to invest some effort and compile a great eBook. Perhaps you have accumulated a lot of original work, or have a story to tell, or practical "how to" experience to share. This is good material that can be compiled into eBook form and offered as product. I have devoted an entire post to eBooks: How To Sell eBooks Online.
Nearly everyone has a smartphone or specialized eBook reader. Ebooks can be readily purchased, downloaded and enjoyed right away from these devices.
A quality eBook can sell! There are now many platforms like that make it easy than ever to get your ebook to the marketplace.
Affiliate Marketing
---
I have seen more new affiliate programs appear over the last year than in any other year. This method of earning income using your own website or blog continues to be a very lucrative one.
In a nutshell, the beautiful advantage is that you can turn something you enjoy doing – a hobby, activity, anything – and write about it, tell stories, share pictures on a website dedicated to it. This is your niche. You earn income by:
Finding the websites of products or services related to your niche, that have affiliate programs.
Signing up as an affiliate.
Offer links using your special affiliate code.
Receive a commission when someone makes a purchase through one of your links.
Affiliate marketing is my favorite method and is a subject that I go into often on this blog. Here are some posts where I cover the subject in detail:
What Is Affiliate Marketing And Does It Work?
Avoid These 10 Affiliate Marketing Mistakes!
I like the fact that affiliate marketing is versatile and can fit into so many different niches and marketing styles. It is without a doubt one of the best online business ideas for 2017 and for years to come!
A downside to affiliate marketing is that it can take a while to build up as a source of full-time income. This is especially true if your website is new. It will take a while to get the traffic coming, and lots of traffic is what it takes to make enough sales.
Creating and Selling Crafts on Etsy
---
Are you into building arts and crafts? The online marketplace site Etsy has made it very easy to create on online storefront and sell your creations worldwide. The well known auction site, eBay, is also a great venue for this too.
Etsy and eBay also have affiliate programs (see above). You could curate a periodic list of "finds" from these sites, publish a themed article and the list on your own website. If a visitor clicks on an item in the list and purchases the item, you earn a referral commission.
Conclusion
---
The new year has sprung upon us. I hope that I've stimulated some fresh ideas on how to get into your own real online business without getting sucked into the many scams out there.
Forget the "resolutions" and let's do something! Have an awesome 2017 and beyond. Your comments and questions are welcomed below.