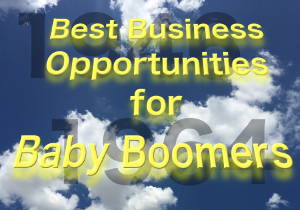 We are a big generation! Many of us are at a point in our lives where we are either retired but desiring more income, or wanting to get off of the nine to five grind and retire early. As the saying goes "We aint getting any younger!". So, without further ado, let's explore some lucrative home based business opportunities for baby boomers, or anyone who wants to put in some honest effort.
First, Let's Decide "What"
---
The first and best choice for the "what" would be something that you enjoy doing passionately. A good second choice can be anything you are very knowledgeable in.  Anything else would be just a another job!
So, what is that one thing you've always dreamed of being paid to do?
Some Ideas
---
To whet your whistle, here are just a few of many pastimes that become big money makers:
Home Improvement
Gardening
Model Railroading
Outdoors
Golf
Woodworking
Pets
Houseplants
A Low Risk Approach
---
When embarking upon any new business, there is always some risk. In the "old days" starting a business almost always involved lots of up front investment of money, and dealing with a physical store, physical advertising, and stocking physical goods. You had to "build it" first and then hope that "they would come"!
The internet makes it considerably easier. All you really need are just a few things:
A Website
Your own blog or website and ideally your domain name. This is your business address on the information super highway.
A Niche
What it is that you love doing and know well. On your website or blog, write articles about your niche! Creating content for your site should come naturally since it is about a favorite subject. Build up lots of great original content with photos, and even videos. Tells stories and share experience or expertise, do product reviews, show how-to demonstrations.
An Audience
You get people who are interested in your niche to visit your website. There are many easy ways to do this.
Now For The "How"
---
Okay, how do we make some money doing the above?
There are many products or services sold online that are related to your chosen niche. Many merchants offer an opportunity to earn a commission if you refer a customer to their store site via an affiliate link that you place on your site.
For example, you're writing an article about how you built this awesome model railroad diorama. You are showing how you did it and where to get various supplies. This becomes a great place to recommend some merchants who carry the needed materials.
You then search online for, say "model railroad + affiliate programs", or search some the affiliate marketing networks like Share-A-Sale or Commission Junction (aka CJ), Amazon, etc, for merchants who offer model railroading supplies, and who offer an affiliate program.
Presto! In your article, you list the stuff needed and include handy link(s) where your audience of enthusiasts can go purchase the items.
There are thousands of products, services, affiliate programs for just about any niche you can imagine! By having your own website, there is no limit to the creative ways you make money from your niche.
The example above is just a scratch on the surface of the possibilities. In addition to affiliate links, you could compile and offer an eBook of your knowledge. It could be collection of favorite articles from your blog, or a collection of construction plans, how-to's – you name it!
Lastly one more important thing…
Training
---
Most importantly, you need training on how to do it right. "Googling it" is just not enough. While the Internet makes getting started with an online business easy, it is just as easy to make costly mistakes or get scammed! You know the old admonition to avoid anything promising overnight riches for little or no work? Right?!
Finding top-notch training is vital if you want to succeed in online business these days. It is where you can network with other likeminded individuals where are starting out and, get help from many seasoned pros who have "been there, done that",  and avoid repeating many common mistakes.
Conclusion
---
For myself after having taken too many wrong turns, I have found blogging combined with affiliate marketing to be the ideal business model. Both for the ease of setup and the low risk factor.
Sure there's tons of information out there on how to do the stuff above. But how the heck was I going to pull this all together and make the right choices without getting sucked into scams, or just having to learn the hard way?
I would like to introduce you to my trusted training resource called Wealthy Affiliate. Come learn where I found all of the tools, training and community support I needed to make something real happen in my life.
Learn More!
I hope this has been helpful and inspiring. So, what kinds of hobbies, activities or professions do you enjoy and would love to earn some income doing? Your thoughts, comments and questions are welcome below!